---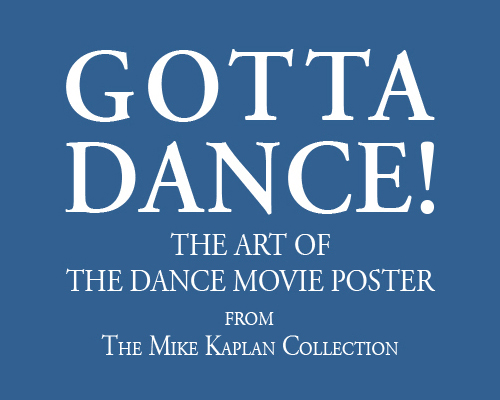 Order Now!
---
"It was 'GOTTA DANCE!', that got me thinking about posters in general and what they've meant to me. You may not have time for the film, but the jolt of a dynamic vintage poster is just a glance away. They convey the same emotions film does, encapsulating a feeling as well as knocking you out with their imaginative sensibility. I am almost as passionate about this art form as I am about film itself." Read More…
Kenneth Turan, Los Angeles Times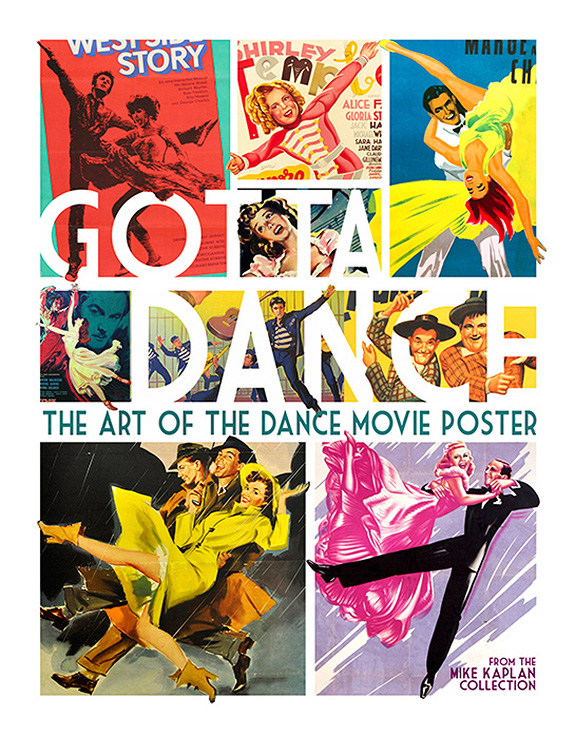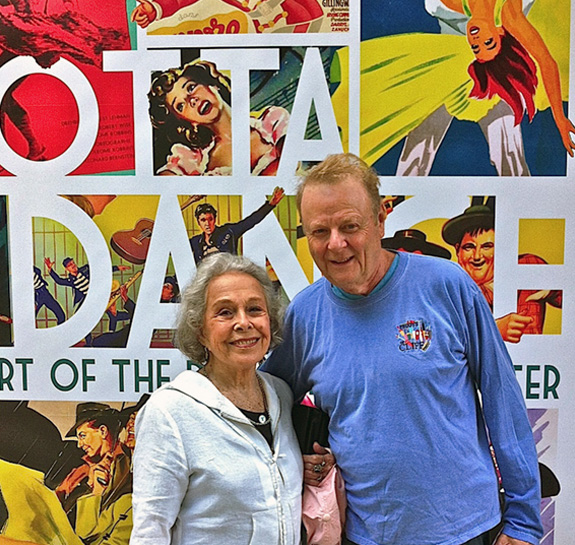 ---
The 95th birthday of legendary dance star Marge Champion was the motivation for the GOTTA DANCE! poster exhibit at Jacob's Pillow, during their 2014 festival season. Champion and co-curator/collector Mike Kaplan pose before the large exhibit banner at Blake's Barn, the exhibit space Marge donated to 'The Pillow' in memory of her son, Blake, a talented dancer who died in a tragic car accident at 25. The key art, which is also the book's cover art, features Marge and Gower Champion in the upper right corner, in a detail from the Swedish poster for their first starring MGM film, EVERYTHING I HAVE IS YOURS (1952).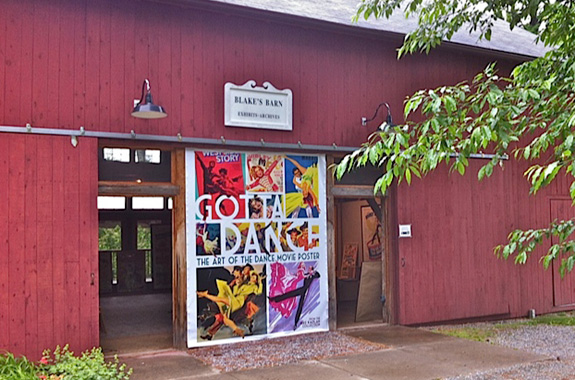 "Eloquently written and beautifully laid out….A love letter to graphic design….A labor of love and pure delight." Read More…
Adrian Curry, Mubi.com
---
"It's sensational. Every poster is so beautiful, so clever, so fabulous. It's so shocking –the color just makes you lose your mind. If you missed it, come back to Jacob's Pillow just to see the dance movie poster exhibit. It's a spectacular show."
Mark Morris, Artistic Director / Choreographer
Mark Morris Dance Group.
---
"What a fantastic artifact this is: Bold and beautiful in choice of posters, in design and layout, a curated voyage through the heyday of the movie poster. It's surprising to see how the studios used dance images to promote even non- dance films because we all know there is nothing more electrifying than a gorgeous body moving through space. The dance images are so vibrant and stunning that they cry out to be framed and hung in a museum setting. This is a poster book that is a work of art in itself by an expert in the field. "
Joanna Ney
Co-curator, DANCE ON CAMERA,
Film Society of Lincoln Center
"No other poster book can touch this. Quite aside from the eye-popping lush cover design, I was bowled over by the stunning graphic approach. You have created an art book."
James Watters, Entertainment Editor, Life Magazine, 1978-1986
Author, Return Engagement: Faces to Remember-Then & Now.
Consultant, HORST Exhibiton, Victoria & Allbert Musuem, London, 2014.
---
"I'm really impressed with this book. The posters look fantastic! A solid achievement. When I saw the exhibit at the California Heritage Museum, I was blown away." Read More…
Leonard Maltin, Critic, Commentator, Film Historian
Maltin's Movie Crazy, INDIEwire; Maltin's Movie Guide
---
"Mike Kaplan's high-stepping Gotta Dance has some fancy moves of its own. Through the dazzling graphics of his enviable collection, and the astute, deep-focused personal commentary, the book gives us not only the rush of the choreography but the enduring pleasures of the films themselves. If you know these films, or this artwork, the book lets you savor and relive your memories. If you're a first-timer, the book is an open and seductive invitation to discovery."
Jay Cocks, screenwriter/critic
GANGS OF NEW YORK; THE AGE OF INNOCENCE; De-LOVELY; SILENCE (now filming)
Film Critic, TIME
---
"When I first walked into the gallery and encountered these pieces, I was benefitted an emotion that is rare to come by outside of nature: awe. What an incredibly special collection. This is a period in art, history, and film that deserves to be immortalized. Kaplan has uniquely and thoroughly curated and collected this moment of time, shedding light on a specialty that has been forgotten by most. What a gift."
Trey McIntyre, Artistic Director/Choreographer Trey McIntyre Project
---
"A vivacious, provocative, smash of a book! Kaplan's attraction to well executed design and images swirls the reader through ballet, ballroom, jitterbug and jazz. His storytelling and film knowledge is the engine of the book. Movie lovers and art lovers alike can now enjoy inspired Belgian, Polish, French, Italian, Danish and Swedish posters of American films beside their American cousins. My favorites: the Swedish poster for Bolero, and Hepburn in heartbreak pose, her stripped floor-length dress spread like an art deco intersection of impossibilities for Break of Hearts. What an unmitigated festival of delight! It partners up with you, swings you wide and sassy."
Tess Gallagher, poet/essayist/writer,
PORTABLE KISSES, MOON CROSSING BRIDGE, DEAR GHOSTS
Consultant, BIRDMAN, SHORT CUTS
---
"I knew I'd love all the posters but the stylistic creative and vividly colored layouts are smashing. Absolutely love the type set and the imaginative showcasing of the titles."
Lloyd Ibert, Director of National Publicity,
Paramount Pictures, 1986-1991, Marketing Division.
---
"Courtesy of Kaplan's savvy eye and his connoisseur choices, movie propaganda never reached more dazzling heights. A passionate advocate for movie posters as an art form, he unites dance and film fans across borders." Read More…
Debra Levine, dance critic, The Los Angeles Times and
The Huffington Post, blogs on dance & film, arts.meme
Introduction
Maybe I was born with a poster gene. As a child in Providence, R.I., I'd remove the full-page theater ads announcing a new play or musical from The Sunday New York Times, color them with paints or pastels, and then compare the results with the printed versions when I visited New York with my parents.
I loved movies and movie posters equally and studied both. Whenever a new Otto Preminger film was announced, I'd await its opening but would be just as excited anticipating the first look at the film's poster. For Preminger employed graphic master Saul Bass, and Bass's concepts were always bold, sophisticated and surprising.
Becoming part of the film industry allowed me to collect new poster favorites. But more posters began to look alike, with little imagination and a preponderance of photography, while paintings and illustration, which I believe elevate a film and entice the public, faded from view. The exciting poster work was now being done by the music industry. Album covers became works of art. I wanted the same for movie posters.
Discovering the availability of vintage movie posters through funky memorabilia shops, a new world of striking and lushly provocative poster art was revealed, one that blossomed during "the golden age" of movie poster design (1930-1950). Design was what I responded to, regardless of whether I knew the film, and I relished finding and being moved by these treasures from around the world.
Movies move … and the art that conveys the exhilaration of movement in all its variations…is dance. Capturing dance in motion when creating the enticement that attracted movie audiences for nearly a century –the movie poster– is demanding. The requirements are complex and competing. Words, in the form of title treatment, credits and slogans, must merge with visuals — a pre-Ed Ruscha construct.
In GOTTA DANCE: THE ART OF THE DANCE MOVIE POSTER, 102 full color images have been selected from twelve nations. All have unique qualities in using dance imagery from both musical and non-musical films. One doesn't associate Lillian Gish, Greta Garbo, Katharine Hepburn, Norma Shearer, Laurence Olivier, Loretta Young or Laurel & Hardy with dance, but here they are in dance mode, on posters for their dramas and comedies. It's a testament to dance as a unifying medium. Of course every important dance star is also represented –from Astaire and Kelly to Caron and Charisse. Several designs are great posters for great films — a rare synthesis: the Italian SINGIN' IN THE RAIN; the British RED SHOES; the Belgian 42nd STREET. The captivating Astaire-Rogers image for the French poster for CAREFREE has Fred & Ginger in full flight, in formal evening attire, the iconic image we recognize from all their movies.
In this book, I've tried to combine film history and poster history, personal observation and critical thought. My hope is that the movie poster will be recognized as a genuine art form, not a sidebar of popular culture, and that perhaps, painting and illustration may once again become part of today's movie poster mix. What's been revealing in the seven GOTTA DANCE! exhibits, which originated at the Second TCM Classic Film Festival, is that the public has responded to the art of the posters, unconcerned if they cost two figures or five.
---
Several years ago, the Odeon Cinema Circuit in Great Britain conducted a poll to select "The All-Time Best Film Poster." I was gratified that one I collaborated on, with Stanley Kubrick and airbrush maestro Philip Castle — A CLOCKWORK ORANGE –topped the list. But picking "The Best" of anything is only an exercise. Robert Altman often said, "My movies are like my children. I love them equally, regardless of their success."
In GOTTA DANCE, each piece is a favorite as I remember the excitement of the hunt for the acquisition, the exhilaration in discovering a knockout design, the surprise in learning an unexpected aspect of movie history.
The ideal movie poster is a microcosm of the movie itself, capturing with inventiveness the feeling one has after leaving the cinema. It should be both a work of art and a souvenir of one's movie experience.
MIKE KAPLAN, 2015
---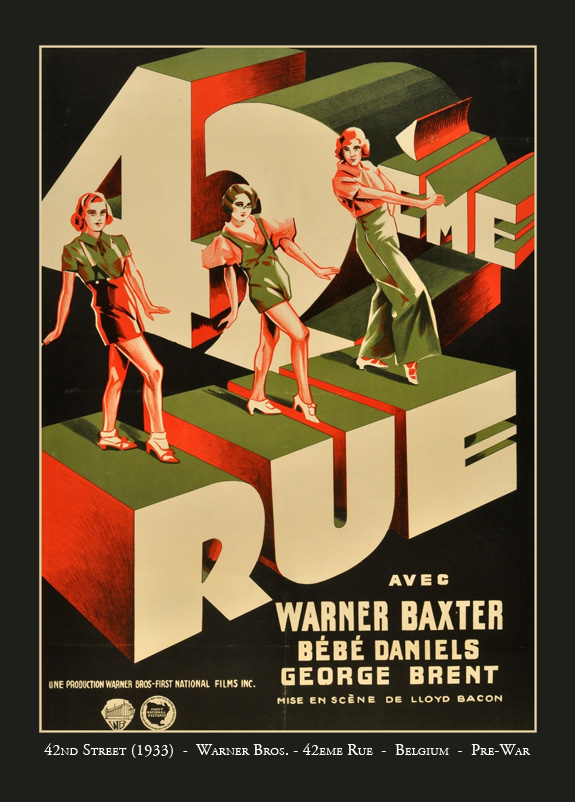 Lagoon Press • 3323 Marble Front Rd. • Caldwell, ID. 83605 • (208) 455-3457